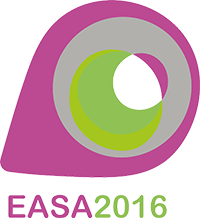 14th EASA Biennial Conference
Anthropological legacies and human futures
Department of Human Science for Education 'Riccardo Massa' and Department of Sociology and Social Research at University of Milano-Bicocca
20-23 July, 2016
Funding
The call for funding is closed, and all applicants notified of decisions.
Through the generous award of €18,430 from the Wenner-Gren Foundation, the contribution from EASA of a further €18,430 as well as additional funds of €8000 from the University of Milano-Bicocca (Unimib), EASA is able to allocate support funds to help with delegate attendance.
The rules and criteria are straightforward:
ALL applications must be submitted via the online form.
You should not seek 'double-funding'. Our aim is to support those who have partial funding or no funding at all.
Requests for funding may cover registration, accommodation, and travel, but NOT membership subscriptions.
Only those earning 1200 EUR or less net income* per month may apply but first consideration will go to those who earn less than 1000 EUR net income per month.
Priority will be given to early-career academics and students, as well as those convening a workshop or presenting a paper.  All these things being equal, long-term EASA members will be given priority.
Please keep your 'other information' question concise. Details about your paper, how important this conference is to your career, etc. are not helpful. Keep to facts regarding alternate sources of funding, etc.
If you make a mistake, please do not resubmit, but email conference(at)easaonline.org.
Deadline: 17th April
* 'net income' means your income after tax, i.e. the amount you receive each month once tax has been deducted.
Funding has been allocated either as a registration fee waiver in our system, or will be remitted to recipients' bank accounts on receipt of electronic receipts for travel and accommodation. If a delegate does not attend the conference for whatever reason (accident, family emergency, visa restriction, etc), they will be expected to return the full sum. If receipts are not submitted, funding is forfeit. These are the conditions accepted in applying for the funds.