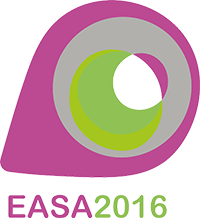 14th EASA Biennial Conference
Anthropological legacies and human futures
Department of Human Science for Education 'Riccardo Massa' and Department of Sociology and Social Research at University of Milano-Bicocca
20-23 July, 2016
Registration
EASA2016 registration is now closed.
All those wishing to attend the conference had to register online and in advance. This does not necessitate paying at that time; registrations are manually checked and an invoice emailed to delegates including payment instructions. On receiving the invoice, you have thirty days to pay.
Full conference registration includes access to the opening ceremony, the keynote, panel sessions, the film programme, laboratories, network meetings, the book exhibit, all the fringe events, tea/coffee during the morning, and afternoon breaks and lunches. A printed conference programme will be provided to all delegates on arrival.
The conference fees are:
Non-member: €245
EASA Member: €195
Student/Low-waged members: €145
Day registrations: ~€80 depending on category
[The optional conference dinner on the Saturday (July 23rd) evening, cost 50 EUR but has now sold out. This will be a three-course sit-down meal with wine taking place in Triennale di Milano (see venue space).]
Please note that joining EASA is compulsory for all authors and convenors!  Signing up for the membership and paying the membership fee is a separate process from conference registration. For further information about EASA membership, and for joining up, please see the EASA membership page here.