In memoriam: Florin Faje (1984-2020)
We are deeply saddened to hear the news of the unexpected and untimely death of Romanian anthropologist and sociologist Florin Faje. Florin passed away in Cluj Napoca, on the night of 15th January, Wednesday, after a heart failure following a late-detected brain tumour. The funeral will take place on the 19th of January, Sunday, at 2pm in Bârgău, close to the city of Baia Mare, Romania.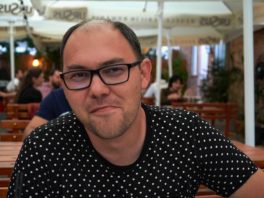 Florin Faje was a University Lecturer at the Babeş-Bolyai University's Faculty of Sociology and Social Work. His work made important contributions to anthropology of/in Europe through studies of class, ethno-nationalism, football and physical education in socialist and post-socialist Romania. He had been a member of EASA since 2008.
Florin was a supportive, generous, and caring colleague, teacher, and friend to many in the anthropological community across Europe. Our discipline and our professional association has lost one of the brightest minds amongst the new generation of social anthropologists. His sharp intellect, contagious humour, and strong professional and personal presence will be deeply missed.
We express sincere condolences to Florin's wife Neda Deneva-Faje, also a colleague anthropologist, and their 4 year old son Nikolay. To help the family through these trying times, donations may be sent to his wife's account:
RO98BTRLRONCRT0372775101 (LEI)
RO48BTRLEURCRT0372775101 (EURO)