The European Association of Social Anthropologists (EASA) is a professional association open to all social anthropologists either qualified in, or else working in, Europe.
The Association seeks to advance anthropology in Europe by organizing biennial conferences.
EASA's academic journal, Social Anthropology/Anthropologie Sociale appears four times a year and is available free of charge to all paid-up members.
EASA is a sister association of the International Society for Ethnology and Folklore (SIEF) and a member of the World Council of Anthropological Associations (WCAA).
EASA NEWS
EASA newsletter 71, January 2018 is now out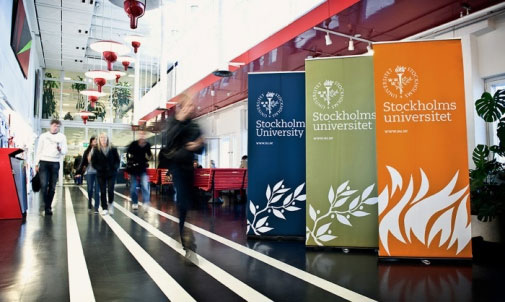 EASA2018: Staying, Moving, Settling
Stockholm University, 14-17th August 2018
The next biennial conference will take place in the picturesque Swedish capital that spreads over 14 islands between the Baltic Sea and Mälaren (Sweden's third-largest lake). Join us for four days of panels, labs, plenary discussions and more. The Call for Labs, Call for Films, Call for papers for the Early Career Scholars forum, and the Call for papers are now all open, closing on 9 April (CfFilms on 5 May). Read more and make your proposals via the conference subsite.
EASA AGM and Seminar: On Politics and Precarities in Academia: Anthropological Perspectives
This was held at the Institute of Social Anthropology, University of Bern from November 16-17, 2017.
Read the full programme here.
About 70 scholars met at the University of Bern to attend the EASA AGM seminar. In four workshops participants discussed how the interplay of political constraints and the unpredictability of life trajectories shape, shift and discipline academic pathways, in particular under authoritarian regimes and austerity policies. Özlem Biner in her keynote focused on the production of "dangerous knowledge" for authoritarian regimes. This meeting provided relevant comparative insights to issues of exclusion, uncertainties as normalcy and shared responsibilities. Furthermore, it contributed to a policy paper for upcoming discussion and political interventions. A survey among EASA members will be launched by the PrecAnthroGroup that will provide better information for highly relevant future collaborations.
You can read Allegra's report on the event and additional four articles here, (click the Next article button to see the series).
EASA supports Polish colleagues
EASA has written a statement of support (PDF) standing alongside their colleagues in the Polish Ethnological Society who are speaking up against growing discrimination in society. They are organising action and their manifesto can be seen here (PDF). The WCAA, of which both EASA and PES are members, has also written a statement in support (PDF).
EASA bookseries
The series has a new editor: Aleksandar Boskovic (University of Belgrade and Institute of Social Sciences)
Call for submissions for edited collections and monographs. More details >>
NETWORK NEWS
See events listed in the sidebar.
New networks
European Network for Psychological Anthropology (ENPA)
Psychological anthropology played a crucial role in the early life of our discipline. The German "Völkerpsychologie", the North American "Culture and Personality School", and the British "Torres Strait Expeditions" all made important methodical, theoretical and transdisciplinary contributions to the broader anthropological project (...) Continue reading >>

Age and Generations Network (AGENET)
This network brings together social anthropologists engaged in research, teaching, and applied work involving older adults, multi/inter-generational relationships, and life-course perspectives. Find out more >>
Pilgrimage Studies Network: In the rapidly expanding interdisciplinary field of pilgrimage studies, which covers not just religious pilgrimage but other key forms such as secular pilgrimage, spiritual pilgrimage, dark tourism and the relationship between travel, tourism and pilgrimage, many of the theoretical debates and methodological approaches have focused on the European context and most contributors are European in origin (...) Read more >>
Call for film review
The Journal of the Anthropology of the Contemporary Middle East and Central Eurasia (ACME) welcomes films and film reviews for its special issue on Migration and Refuges. Should you like to contribute, please contact the film reviews editor: Dr Michael Abecassis: michael.abecassis(at)modern-langs.ox.ac.uk. For general inquiries and instructions, please visit: acmejournal.org