Contemporary 'Spiritual' Practices
Network convenors (2023-2024)
Sara Le Menestrel, French National Centre For Scientific Research (France) sara.le-menestrel(at)ehess.fr
Marie Mazzella di Bosco, Paris Nanterre University (France) marie.mmdb(at)gmail.com
Nicolas Boissière, University of Quebec in Montreal (Canada) boissiere.nicolas_pierre(at)uqam.ca
Board members (2023)
Bianca Botea, Lumière University Lyon 2 (France)
Ana Correa-Gendron, Sorbonne-Nouvelle University (France)
Emma Gobin, Paris 8 University Vincennes-Saint-Denis (France)
Claude Grin, École pratique des hautes études (France)
Denise Lombardi, École pratique des hautes études (France)
Laure Montarry, Paris Nanterre University (France)
Emily Pierini, Sapienza University of Rome (Italy)
Carine Plancke, Ghent University (Belgium)
Thomas Witzeling, University of Lausanne (Switzerland)
---
Aims
This network aims to foster international exchanges and collaborations around the anthropology of contemporary 'spiritual' practices. Inspired by stimulating encounters at pioneer seminars ("Nouvelles formes de médiation relationnelle" (New forms of relational mediation) at EHESS (Paris) and "Approches comparées du New Age" (Comparative approaches to New Age) at EPHE (Paris)) and at conference panels ("Contemporary spiritualities and 'New Age': Ethnographic and historical-comparative approaches to a transnational field" at the 2018 EASR annual conference; "Thérapies alternatives spirituelles" at Université Neuchâtel (Switzerland) in 2019.), we observed a glaring gap between the worldwide circulation of contemporary spiritual practices and the marginality of the field, largely unexplored within anthropology. Whereas leaders of these eclectic practices have been prolific writers as producers of knowledge deeply engaged in building legitimacy, anthropologists have not fully embraced contemporary spiritual practices as a legitimate field in itself. We argue for the necessity of extensive ethnographic fieldwork, and for research rooted not only on a corpus of writings and discourse saturating the field but also on participant observation. Rather than restricting our approach to anthropology, we draw on other fields necessary to the contextualization and historicization of contemporary spiritual practices as situated in specific time and space while also interconnected through transnational movements.
Our hope is to establish a cross-disciplinary network and offer regular occasions for exploring within a comparative approach the transversal dynamics as well as the differences within the operative logics of these spiritual practices.
A wide variety of spiritual practices overlap and typically belong to various realms between therapy, science, wellbeing, and politics: from New Age to Neopaganism, from ecospirituality to neo-traditionalist movements among numerous categories, this network is open to 'spiritual' practices regardless of their cultural contexts.
Past activities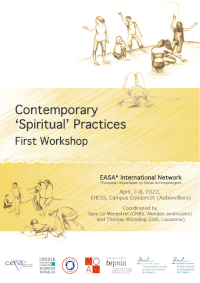 First workshop at EHESS, Campus Condorcet (Aubervilliers, Paris), 7-8 April, 2022.
View the programme
2 panels at the 17th EASA Biennial Conference at Queen's University Belfast, 26-29 July, 2022:
P103 "Contemporary 'spiritual' practices: ethnographic and comparative approaches of a transnational field"
Programme available here.
P071 "Experiencing the sensing body: mind-body techniques, contemporary spiritual practices and the senses"
Programmes available here: P071a, P071b
To join our network please subscribe to our mailing list.