Anthropology and the Arts Network (ANTART)
Network rationale
The objective of the ANTART Network is to advance the scholarship, discussion, and presence of anthropological approaches to the arts. It also seeks to build on its existing network of scholars, artists, and institutions to continue its exchanges with alternative cultural production venues in future EASA locations, thus building links between the university and other public or civil society initiatives. The Anthropology and the Arts network aims to attract researchers working in the arts including but also beyond visual media, including the performative arts, music and sound, theatre, design, architecture, etc. This vast field of research is blooming, but currently underrepresented in EASA. The ANTART network does not contrast other networks, but rather complements them. We are therefore also interested in facilitating cross-over discussions and memberships with other networks in EASA.
Recent Network Development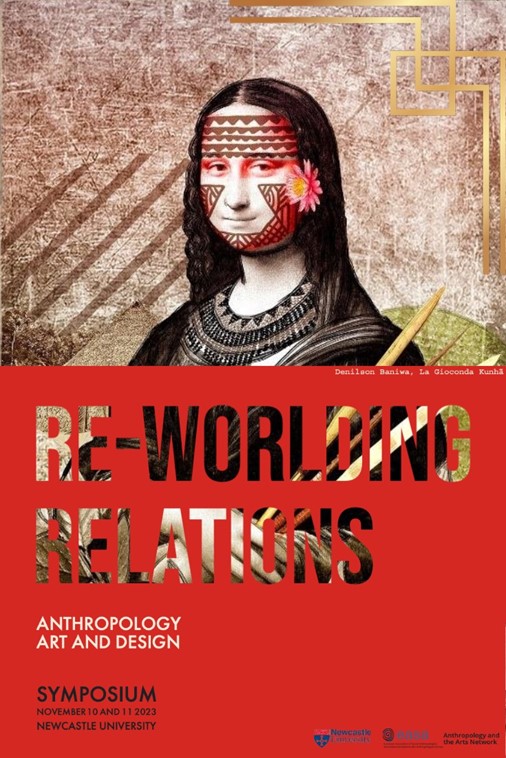 EASA – ANTART NETWORK WORKSHOP
"Re-worlding relations: Anthropology, art, and design"
November 10-11, 2023
Venue: Newcastle University
Old Library Building (OLB), Room 2.20
Campus Map
Guest speakers:
Professor Barbara Glowczewski (Anthropologist, French National Scientific Research Center, CNRS)
Professor Anna Maria Guasch (Art Historian, University of Barcelona)
In this symposium we take up the concept of worlding to explore practices of arranging the world otherwise and to test a theoretical compass mediated by sensibility and sustainability. Worlding is an idea with a complex genealogy despite, or perhaps because of, its Heideggarian lineage which Gayatari Spivak locates as central to the maintenance of an ongoing coloniality. And yet, worlding allows us to enact a plurality of thinking and practice to contest hegemonic structures, values, and ways of being. It also centres material processes and practices as the means to glimpse how to craft alternative forms of life and relations. We wish to explore: How might anthropology, art, and design - each deeply relational modes of knowledge production and sensory experience – come together to refract the course of a universal modernity? How might such alliances propose alternative forms of organisation and living in-with the world(s)? How might anthropology, art, and design set out paths of re-worlding for new sensible and sustainable relations that move us toward a pluriversal existence? How might such processes occur, be they in the studio, the academy, or virtually through digital forms? What forms of narrativisation and what kinds of knowledge might be produced by re-worlding processes?
Friday, November 10th
Welcome 9.00 – 9.30
Panel 1 9.40 – 11.20
Coffee break 11.20 – 11.40
Panel 2 11.40 – 1.20 pm
Lunch
Panel 3 2.20 – 4.00 pm
Guest Speaker – Prof. Anna Maria Guasch 4.30 – 6.00pm
Saturday, November 11th
Panel 4 9.30 – 11.30
Coffee break 11.30 – 11.45
Guest Speaker – Prof. Barbara Glowczewski 11.45 – 1.15 pm
Lunch 1.15 – 2.15 pm
Panel 5 2.15 – 4.00 pm
Conclusions 4.00 – 4.30 pm
*Stay for two nights will be covered by the event. You need to be – or become – an EASA member to be eligible for this support.
*Breakfast and lunch to all participants will be included by the event.
ANTART Convenors:
Giuliana Borea (Newcastle University and PUCP)
Francesa Cozzolino (École des Arts Décoratifs de Paris and LESC/ Université de Paris Nanterre)
Alex Ungprateeb Flynn (University of California, Los Angeles)
Kiven Strohm (National University of Singapore)
Panels at EASA 2022
Several panels by ANTART members took place in Belfast this summer:
P165: Engaging with aesthetic forms: Approaching the sociopolitical embedding and agency of arts [AntArt network]
The first panel, with the ANTART 'badge' attached, is convened by new ANTART members, Bernardo Machado (Unicamp) and Jeannine-Madeleine Fischer (University of Konstanz)
Assuming that aesthetic forms are permeated by political powers, this panel explores their affective and transformative potentials in transnational flows and local settings. We ask how diverse agents engage with aesthetic forms and their emergent embeddings, transits and agencies.
P072: Hopeful chronopolitics: contemporary art and ethnography
The second panel is convened by ANTART Convenors Jennifer Clarke (Gray's School of Art, Robert Gordon University), Maxime Le Calvé (HU Berlin), along with Melanie Janet Sindelar (Austrian Academy of Sciences).
This panel investigates how artistic projects engage hopeful chronopolitics – practices and dynamics that employ specific time-frames to engage hopeful imaginations of the present and future – and thereby navigate contentious debates that are hegemonically monitored by different forces.
P046: Arts of the decolonial
Convened by ANTART member Alex Ungprateeb Flynn (University of California, Los Angeles) along with Maria Íñigo Clavo (Uoc), this panel seeks to detail how artistic and curatorial practice has informed the decolonial turn that so characterises contemporary scholarly thought and theorises how such practice may point to the decolonialities of tomorrow.
ANTART Convening Teams
2017-2020
Founding Convenors
Roger Sansi (Barcelona)
Jonas Tinius (Berlin)
2020-2022
Jennifer Clarke (Grays School of Art, Scotland)
Maxime Le Calvé (Humboldt-Universität zu Berlin, Germany)
Together with Anna Laine (Sweden) January 2020 – August 2020.
2022-2024
Giuliana Borea (Newcastle University, UK and Pontificia Universidad Católica del Perú)
Francesca Cozzolino (EnsadLab, EnsAD, Paris / Lesc, Université Paris Nanterre)
Alex Ungprateeb Flynn (University of California, Los Angeles)
Kiven Strohm (National University of Singapore, Singapore)
Background 2012-2019
The first discussions to form this network took place at the EASA conference in Paris in 2012, but back then, after some debate, we decided to restrict the network to an interest group within VANEASA. At the next EASA in Tallin in 2014, this interest group convened a Lab (L200 Anthropologies of Art) to generate a group discussion around shared objectives. A central theme that emerged was the uncertainty and diversity around the processes of collaboration between Art and Anthropology. The next workshop, Encountering Concepts in Art and Anthropology, took place at the Universitat de Barcelona, Spain from 11-12 June 2015. The concepts discussed were: "method/work", "research", "creativity", "participation/exclusion", "institutions" and "archives. A full report on the workshop can be found here

. Following the workshop, we created an open dictionary where the discussion on these concepts will continue.

During the EASA 2016 conference in Milan, an interest group meeting with about thirty participants took place, discussing the future of the group as a Network, which concluded that Roger Sansi and Jonas Tinius would apply for network status within EASA..
The first ANTART network panel entitled 'Art and Nativism' (P098) took place during the 2018 EASA conference in Stockholm, which also supported a range of experimental labs and other related panels. In 2019, the ANTART network held its first interim meeting (The Trouble with Art. Philistinism, Iconoclasm, and Scepticism of Art in Anthropology) organised by the founding convenors, and held at the Centre for Anthropological Research on Museums and Heritage (CARMAH), Humboldt-Universität zu Berlin. The papers from this meeting are the basis for a volume edited by Jonas Tinius and Roger Sansi (2023) with contributions by George Marcus, Liz Hallam, and other network members.
Following EASA regulations, the network collectively agreed on two new convening teams 2020-2022, and also provisionally for 2022-2024.