Sydel Silverman, 1933-2019
EASA owes a huge debt to Sydel Silverman, who passed away peacefully on March 25, 2019 surrounded by her family.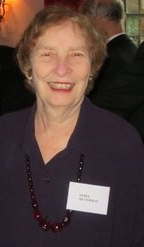 Sydel Silverman's crucial contribution to the foundation of EASA came during her tenure as President of the Wenner-Gren Foundation (1987 - 1999). As she explained, she responded positively to Adam Kuper's suggestion, in 1988, that it might be time to create an association to represent social anthropology in Europe. Sydel both agreed and Wenner-Gren funded the first meeting to discuss this possibility in January 1989, a meeting that she attended as an observer.
Sydel's sense of purpose, her intelligence, her humour and her kindness were exemplary in the way she pursued her projects in support of anthropology. EASA was lucky to benefit from her drive and strength.
It has been her kind of quiet, mostly unpublicized work that forms the bedrock of the very existence of disciplines such as social anthropology. At EASA, we want to express our deepest condolences to her family, and take this opportunity to thank Sydel for her profound contribution to the foundation of our Association. She truly made a difference: we will always be grateful and remember her warmly.
Sarah Green (President), with Adam Kuper (EASA co-founder and President, 1989-90) and Susana Narotzky (EASA President, 2011-12)
In addition to these three current and former presidents, the remaining former presidents/chairs of EASA all agreed to add their names to this statement, as a collective expression of gratitude from EASA across the years. They are:
2017-2018 Valeria Siniscalchi Ecole des Hautes Etudes en Sciences Sociales, Marseille
2015-2016 Thomas Hylland Eriksen, University of Oslo
2013-2014 Noel Salazar, University of Leuven
2009-2010 Michal Buchowski, University of Poznań
2007-2008 Shalini Randeria, University of Zurich
2005-2006 Dorle Dracklé, University of Bremen
2003-2004 João de Pina-Cabral, University of Lisbon
2001-2002 Jon P. Mitchell, University of Sussex
1997-1998 Marilyn Strathern, University of Cambridge
1995-1996 Ulf Hannerz, University of Stockholm
1991-1992 Kirsten Hastrup, University of Copenhagen
Sydel Silverman: EASA's guardian angel
An appreciation by Adam Kuper
The launch of the EASA would not have been possible without the support of Sydel Silverman. In 1987 she became president of the Wenner-Gren Foundation. Set up during World War II as the Viking Fund, reborn in 1951 as the Wenner-Gren Foundation for Anthropological Research, dedicated to the promotion and support of the international community of anthropologists, the Wenner-Gren had been a major donor to the International Union of Anthropological and Ethnological Sciences (IUAES), which had been founded under the auspices of UNESCO in 1948. The foundation's journal, Current Anthropology, was proudly international. During the Cold War it was the only major journal that was available to many Eastern European scholars, and in which they published. The first two editors of the journal, Sol Tax and Cyril Belshaw, were both active in UNESCO and in the IUAES, which was one of the few institutions that brought together "Western" anthropologists and colleagues from Eastern Europe and Asia.
I was editor of Current Anthropology from 1986 to 1995. Immediately Sydel became president of the Wenner-Gren, she encouraged me to take on an international role. A Europeanist, who had done extensive fieldwork in Italy, she was particularly intrigued by the very preliminary and uncertain discussions that were going on at the time about the formation of a European association of social anthropology. Within a year of becoming president of the Wenner-Gren, she funded the inaugural meeting of a network of European social anthropologists, which took place in the conference center of ENI (the Italian state petroleum company) in Castelgandolfo, in the shadow of the Pope's summer residence.  The meeting ran over the weekend of January 13-15, 1989. On January 15, the EASA was founded.
An inaugural conference was planned for the summer of 1990. João de Pina-Cabral proposed that it be held in Coimbra, as part of the celebration of the foundation of the university of Coimbra seven centuries earlier, in 1290. And then modern history intervened. On November 9th, 1989, the Berlin Wall fell. Sydel immediately offered the EASA executive an open cheque to bring colleagues from Eastern Europe to Coimbra. That Coimbra conference, the first to bring together a free community of European anthropologists, celebrated the public launch of our Association. Sydel was there with her husband, Eric Wolf. She became a regular at our conferences, and the Wenner-Gren was always ready to support us. Sydel remained a guardian angel of the EASA until her retirement from the Wenner-Gren in 1999, and she gave a sparkling talk about our history at the EASA conference in Tallinn, in 2014.